LOIS GREIMAN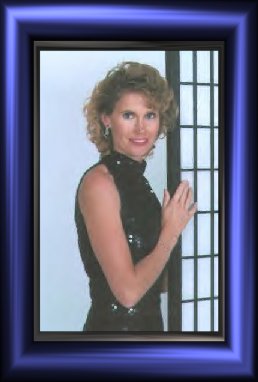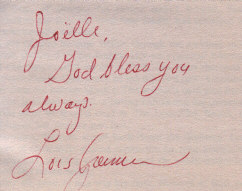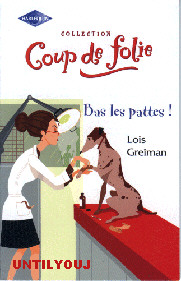 BAS LES PATTES ! Harlequin Coup de Folie N°9
LUI : Daniel McCormick, écrivain célèbre, un brin coincé, dévoré par la peur de la feuille blance, a cruellement besoin de calme et de repos, et de s'éloigner de la fureur de la ville pour retrouver l'inspiration.
ELLE : Jessica Sorenson, vétérinaire survoltée, jeune femme à l'énergie inépuisable, s'épanouit au grand air en se dévouant pour les êtres qu'elle aime, et en soignant les animaux qu'elle adore.
ELLE & LUI : Tout se complique quand il décide de venir se ressourcer chez elle ! Au lieu de la calme maison de campagne, il se retrouve dans une vraie ménagerie ! En fait de repos, il se voit dérangé par toutes sortes d'animaux incongrus et de bruits parasites...
Quant à Jessica, elle tente en vain d'accomplir sa tâche malgré la présence d'un homme renfrogné et bourru, qui ne cesse de critiquer son mode de vie...
FROM CAVIAR TO CHAOS

09/10



A DECOUVRIR EGALEMENT :
A quand la publication en France
des excellents livres historiques de Lois Greiman ?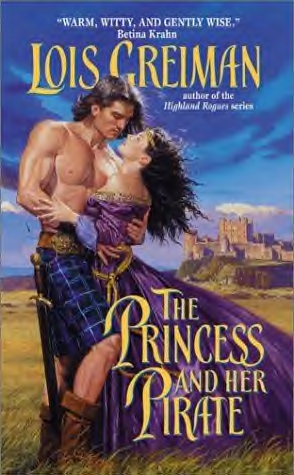 Paru en juillet 2003
Passion's Prisoner
Princess Tatiana needs a groom to help her rule her vulnerable country. So she embarks on a desperate mission -- traveling in disguise to a neighboring land to forge an alliance with the dashing Cairn MacTavish, the fabled "Pirate Lord." But instead of a marriage, a rude welcome awaits the brave, beautiful royal when she is accused of being a common thief -- and is taken captive by the rogue she had meant to wed!
Not since his adventurous days on the high seas has MacTavish felt the sort of excitement this gorgeous hellion inspires. He knows she is hiding something -- and each claim of innocence that comes from her lush, inviting lips only inflames his desire for a kiss…and for the passionate night that will inevitably follow. Yet a past betrayal is still fresh in MacTavish's memory, and he dares not trust his heart. Now he vows to learn this mystery woman's secrets…even if he has to seduce her to do it.