THE CAPTAIN OF ALL PLEASURES
England and the High Seas 1856
Raised as a free spirit aboard her American sea captain father's majestic clipper ship, willful Nicole Lassiter has never encountered an obstacle she couldn't overcome -- until she meets Captain Derek Sutherland. His sizzling kisses leave her longing, but after they share a night of passion, his subsequent disdain makes her blood boil. Nicole vows to take her revenge -- by helping her father beat Sutherland in a high-stakes competition: the Great Circle Race from England to Australia.
Nicole's scheme is thrown overboard after her father is wrongly imprisoned, yet she remains undaunted -- taking to the high seas with her father's ship. But a storm wrecks her plans, and she finds herself a virtual prisoner aboard Sutherland's vessel. And while her mind tells her she should escape, her body urges her to surrender...

09/10


THE PRICE OF PLEASURE
Les aventures de Grant, le frère de Derek !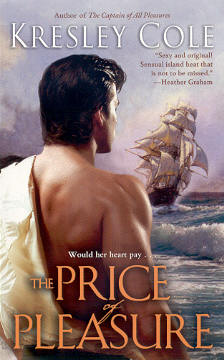 A man noted for his courage and integrity, Captain Grant Sutherland journeys to Oceania to find Victoria Dearbourne, an English girl lost at sea a decade before. He's given her ailing grandfather his word—as a gentleman—to find and protect her. One look at a grown Victoria and Grant's never felt less like one.
Tori relishes freedom, untamed passion, chaos above stifling order. Even more so when a proud, cold British captain arrives to rescue her when she has no wish to be. As Grant tries to convince her to leave her island home, she begins to see in him a man hungering for more. A man who once laughed. A man who desires her but won't take what she offers.
When Grant struggles to control his own savage passions—and fails, Tori must decide what she wants more—her unfettered independence, or the only man who could tame her wild heart.

A paraitre en mai 2005 : THE DARK HEARTS SERIES (MacCarrick brothers): If you dare (book1) / If you deceived (book 2) / If you desire (book 3)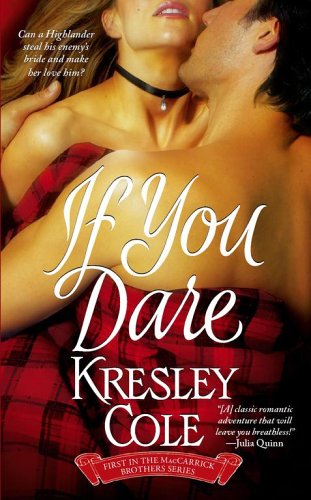 Pour plus d'infos :
www.kresleycole.com